INCREDIBLY STRONG TRUCK BED PROTECTION


The Toughest DIY Bedliner System on the Market.

Get your truck bed ready for everyday wear or serious elements
Prevents rust and water damage to applied surfaces

UV resistant anti-fade keeps your truck bed looking great
Spray it or roll it – you've got options

Texture and uniform finish provides a great look and feel
Gorilla products are extra tough and made to last
TRUCK PROTECTION PRODUCTS READY TO DELIVER
Ready to protect your truck? We've got you covered.
We believe that a good product should be able to be used in many ways. That's why we created bed liner products that you can use to create a protective finish on your:
PROTECTING YOUR TRUCK WITH GORILLA BED LINER IS EASY. HERE'S WHAT YOU NEED TO KNOW.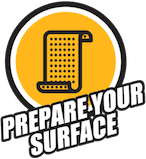 Before you apply, sand off the current finish and make sure your surface is clean and dry.
Use our specially-made Roller & Tray Kit, grab an aerosol spray, or use our Application Spray Gun with our 2-part Professional Truck Bed Liner.
After letting your bed liner cure: 48 hours for light use or 3-5 days for full use, you're good to go. Travel, tailgate, or anything you'd like; your truck can take it.